Remnant Individual Subscription Plans
Free
Community & Content Access
Live Streaming Access
Ad Supported content
$5 monthly
Community & Content Access
Live Streaming Access
+
NO Ads during content
Premium Content Access
Remnant Ambassador Access
$48 /Year
Community & Content Access
Live Streaming Access
+
NO Ads during content
Premium Content Access
Remnant Ambassador Access
$10 monthly
Community & Content Access
Live Streaming Access
+
NO Ads during content
Premium Content Access
Remnant Ambassador Access
20% discount on event tickets
Remnant Green Pass Annual
$96 /Year
Community & Content Access
Live Streaming Access
+
NO Ads during content
Premium Content Access
Remnant Ambassador Access
20% discount on event tickets
$15 monthly
Community & Content Access
Live Streaming Access
+
NO Ads during content
Premium Content Access
Remnant Ambassador Access
20% discount on event tickets
1 FREE event ticket /month
Remnant Orange Pass Annual
$144 /Year
Community & Content Access
Live Streaming Access
+
NO Ads during content
Premium Content Access
Remnant Ambassador Access
20% discount on event tickets
1 FREE event ticket /month
This account is for Remnant Churches and Pastors; free for life.
Remnant Content Contributor
Want to be a bigger part of the Remnant App 2.0 Mission?
Join the Remnant Founders Amror-Bearer Club, and enjoy special perks while you help push the vision and mission to new heights and galaxies. As a Founders Armor-Bearer Partner, you will help us with our mission to turn these stories into feature films in the future.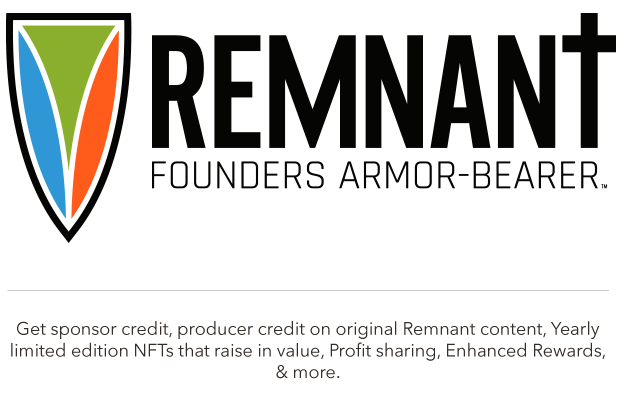 Join the RLN Founders Crusaders Club Now